Like me, I imagine your week started off ordinarily enough. Perhaps you were preoccupied with Christmas preparations. Perhaps you were busy at work. It seemed like an ordinary enough week.... until Friday morning. Steve planned to go in to work late because Taylor Swift tickets went on sale at 10:00. As we logged on to buy tickets we were horrified to see the headlines about the Sandy Hook shooting(I don't like that M word). We had a few minutes to attempt to digest the news before we had to scramble for the countdown. Ticketmaster, who sells the tickets, was a disaster. At 10 o'clock on the dot their on-line system found ZERO tickets for sale. How they could possibly be sold out the moment they went on sale?!!! It made no sense. We tried 4, 3, 2 tickets. Nothing worked. I got through on the phone and as I was confirming the purchase of 4 crappy tickets in section 16 B their system had technical difficulties, disconnected me and I lost them. So then Steve called on his cell phone while I called back on the home phone and at the same time kept trying the on-line sales system over and over again. All they had left was two tickets four seats apart. For something that should have been so easy, it wasn't. An hour later the ticket ordeal was over, Steve left for work but I kept seeing the minute by minute updates about Sandy Hook. I felt sick. I was pretty much a basket case for the rest of the day. My heart is absolutely broken for the parents of those children. I am afraid for them and all of the children who survived about how they will find the strength and courage to go on. I think even the rest of us will be forever changed. Somehow I wish we could just press pause. It feels wrong to do ordinary things at such a time and yet there is no way to stop life from moving forward.

It is with a sad heart that I post my pictures this week.

Daily Happiness Photos - Week 50
Have you heard that
Americans throw away 40% of their food
? That percentage seems a bit high, but none-the-less it makes you think. We do eat our leftovers but sometimes I do find myself getting busy and not using things up before they go bad. I hate that. It seems so....well, wasteful. I've been trying to be better and when I see I've got an ingredient I try to plan a meal that uses it. I also have been trying to use up my dry foods before I buy more. Tonight's dinner used half and half that would have gone bad, a big bag of macaroni I've had for awhile, garlic crouton crumbs for topping (seriously so good) and Dubliner cheese (which rarely goes bad since it's so delicious). With a pear and Spring mix salad it was perfect comfort food for a cold winter night.
12/11 My Favorite Christmas Ornament
If you came to my house and saw all the Christmas decorations and festivities you might not believe it, but in all honesty this ornament is my favorite. There, I admitted it. Okay, if the house was burning down and I could only pick one ornament to save this probably wouldn't be it. But it is my favorite to hang on the tree. Especially when I really just want to go to bed. I must be a little happier this year because I didn't place it prominently smack in the front and center.
12/12 The Finished Christmas Tree
I've been collecting ornaments since I was a teenager. My mom gave me a number of hers. Some are made from the painted wood nursery rhyme mobile that was above my crib. Some are 1950's glass balls. A few are from the turn of the century. I have a jointed celluloid Kewpie doll that was on the tree when my grandfather was a boy. Steve and I have collected an ornament or two each year for the 20+ years we've been a couple. Others are special to the kids. We have a LOT of ornaments and it takes a few days to trim the tree. I was very happy when we finished and the kids could get to bed.
The kids ask first before they open the advent calendar each day. The thing I love about our advent calendar is that that the boxes are drawers that I fill myself, so if I change my mind I can swap out the contents at the last minute. At the end of a long tiring day we were supposed to make paper snowflakes. Instead I pulled the swaperoo and put in a new scroll: watch Christmas video (kids choice Santa Claus Is Comin' to Town) and eat gummy Rudolph noses. Look for them at the store, they're delicious. I think we all enjoyed ourselves far more than we would have making snowflakes.
12/14 The Kids Home After School
Like (almost) every other parent in America I was so grateful to hug and love on my children when they got home from school today.
None of the kids have had a salon cut, ever. It saves a lot of money but not a lot of time. After 9 years of cutting Adrian's hair my clippers needed replacement. They weren't great clippers in the first place but now were pulling his hair making the process even less desirable. After a little research I ordered these but they weren't due to arrive until next week. All 3 kids needed a cut for Santa photos, and just as I was about to get started with the first cut the doorbell rang and there were my lovely new Oster Speed Lines. I love their vintage style.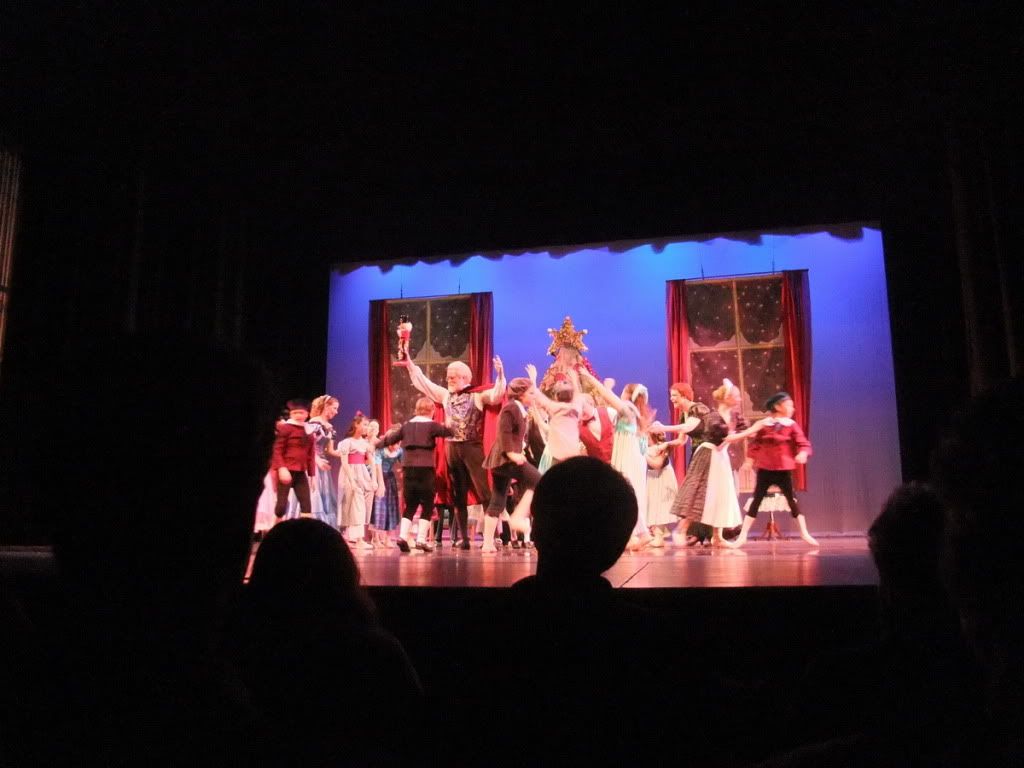 12/16 The Nutcracker Live
Unbelievably I'd never taken Evie to the Nutcracker. She's loved ballet since she was 2. We'd watched it
on DVD
many times but never seen a live performance. I think the fact that Ainsley came along around about the time Evie was old enough to go was a big part of it. That, and sadly the holidays are often a busy time at work for Steve. One of Evie's BFF's dances at Cornish Prep and we were able to get last minute tickets to the sold out show. Evie got to watch her friend perform
and
sit next to another of her BFF's. We held hands. It was a really special night.
**********